Down Payment Assitance ProgramsSBA Express Loan
Down Payment Assitance Programs Near You
This downpayment assistance program (DAP) is designed to assist First Time Homebuyers who are interested in purchasing a home anywhere in Texas (including the Houston metropolitan area). With this DAP the first time home buyer can effectively cover his or her downpayment requirement -on an FHA Loan- making it a true Zero Downpayment Loan.
This DAP works in conjuction with any 30-year fixed interest rate FHA loan. The interest rates offered under the program change periodically depending on the industry's market rates at the time the loan is registered.
Fort Bend County : Up to $3500 down payment assitance
Unincorporatedd Harris County: Up to $14,000 down Paymment asitance
MCC: A dollar for dollar reduction against their federal tax liability. Note: The Mortgage Interest Credit (MCC) is a non-refundable tax credit, therefore, the Homebuyer MUST have tax liability in order to take advantage of the tax credit. This program provides help for potential homebuyers to buy a new or existing home.
Good Neighbor Next Door program, which helps law enforcement officers, firefighters and EMTs as well as teachers. this program was created for teachers and other civil servants, including firefighters, law enforcement officers and emergency medical technicians. It offers a 50% discount on HUD-owned homes located in "revitalization areas" — regions with high foreclosure rates and low homeownership —nationwide. Here's the catch: Applicants must not currently own a home and must commit to using their new house as a primary residence for three years — otherwise, they'll owe the full cost. See homes available through the program at HUDHomes.
Housing Opportunities of Houston (HOH): This program contracts governmental agencies to administer funds of up to $9,500 for a new home and up to $3,500 for a pre-existing home.
Homebuyer Assistance Program for Veterans:
a. Through the Texas Veterans Land Board, home loans may be obtained directly if they are $45,000 or lower. The Land Board also provides assistance to Texas Veterans by guaranteeing home loans, setting below market interest rates and avenues to lower the interest rates for loans up to $200,000.
b. $5,000 Grants for First-Time Military Buyers. Active duty personnel, veterans, retired members of the military, and employees of the U.S. Department of Defense and the Department of Homeland Security are eligible to apply for up to $5,000 in down payment and closing costs in the purchase of a first home. The national nonprofit Pentagon Federal Credit Union Foundation is offering the assistance through its Dream Makers program and says the grants can be applied to a mortgage from any financial institution.
FHA Loans
It's easy to understand why many people looking for a new home are turning to FHA insured loan programs. Because FHA Loans are insured by the Federal Housing Administration homebuyers have an easier time qualifying for a mortgage. Those who typically benefit most by an FHA loan are first-time home buyers and those who have less than perfect credit. The links to the right are articles aimed at helping you better understand FHA loans. With this information you can make a more informed decision on whether these government insured loans are right for you and your family. New Changes in FHA Loans In response to the growing housing situation in the United States the loan limits for FHA Loans has been temporarily raised. Depending on where you live you might find it even easier to qualify for a FHA loan. As FHA Loan specialists we can help you understand any new changes to the FHA loan program. We're here to create a customized solution that works best for you and your family.
VA Loans
A VA loan is a mortgage loan guaranteed by the U.S. Department of Veteran Affairs (VA) that is available to most US service members. It offers some very great benefits to those that have served our country.
Benefits of VA Loans
You can buy a home with no money down.
You can refinance your home up to 100% of the value of your home.
You never have to pay PMI (Private Mortgage Insurance).
Sellers can pay your closing costs.
They are usually easier to get because the Government insures the loan so that there is much less risk to the lender.
If you already have a VA Loan you might be eligible for a VA Streamline Refinance.
Disabled Veterans may qualify for a waiver of the Funding Fee if they receive any disability payments from the VA or if they are considered to be at least 10% disabled.
Who is eligible for a VA Loan?
As a rule of thumb, almost all active duty or honorably discharged service members are eligible for a VA loan.
You may be eligible for a VA loan if any one of these statements describes you:
I served 181 days during peacetime. (Active Duty)
I served 90 days during wartime. (Active Duty)
I served 6 years in the Reserves or National Guard.
I am the spouse of service member who was killed in the line of duty.
I currently receive disability payments from the VA.
Conventional Loans
What are Conventional Loans?
Conventional Loans are mortgage loans that are not insured by the government (like FHA, VA, USDA Loans), but they typically meet the lending guidelines that have been set by Fannie Mae or Freddie Mac. Typically, conventional loans have better rates, terms and/or lower fees than other types of loans. However, conventional loans typically require a borrower to have good-to-excellent credit, reasonable amounts of monthly debt obligations, a down payment of 5-20% and reliable monthly income. Conventional loans are ideal for borrowers with excellent credit and at least a 5% down payment.
Most Common Types of Conventional Loans
Fixed Rate Mortgages: Your rate and payment never change.
30 Year Fixed Loan
Benefits: Lowest fixed monthly payments
20 Year Fixed Loan
Benefits: Low fixed monthly payments
15 Year Fixed Loan
Benefits: Lower rate than the 15 or 20 Year Fixed; Pay less interest and pay your home off more quickly.
10 Year Fixed Loan
Benefits: Lower rate; Pay off your loan and build equity faster.
5 Year Fixed Loan
Benefits: Lowest rate; Pay off your loan and build equity the fastest
Adjustable Rate Mortgages: After the initial period your interest rate can change once a year.
3/1 ARM
Fixed Rate for 3 Years, Adjustable Rate for the remaining 27 years
5/1 ARM
Fixed Rate for 5 Years, Adjustable Rate for the remaining 25 years
7/1 ARM
Fixed Rate for 7 Years, Adjustable Rate for the remaining 23 years
What are the Conventional Down Payment Requirements?
For Purchase transactions Conventional Loans require the home-buyer to put down at least 5% - 20% of the purchase price of the home. For a Refinance transaction, most lenders require at least 10% equity in the property. If you don't have enough equity to qualify for a conventional refinance - even if you owe more than your home is worth - you might be eligible for a HARP 2.0 Loan.
What types of property are eligible?
Most conventional loan programs allow you to purchase single-family homes, warrantable condos, planned unit developments, and 1-4 family residences. A conventional loan can also be used to finance a primary residence, second home and investment property.
Find Out if a Conventional Loan is Right for You
USDA
What is a USDA loan?
A USDA home loan is a zero down payment mortgage for eligible rural and suburban homebuyers. USDA loans are issued through the USDA loan program, also known as the USDA Rural Development Guaranteed Housing Loan Program, by the United States Department of Agriculture.
How USDA loan programs work?
There are three USDA home loan programs:
Loan guarantees: The USDA guarantees a mortgage issued by a participating local lender — similar to an FHA loan and VA-backed loans — allowing you to get low mortgage interest rates, even without a down payment. If you put little or no money down, you will have to pay a mortgage insurance premium, though.
Direct loans: Issued by the USDA, these mortgages are for low- and very low-income applicants. Income thresholds vary by region. With subsidies, interest rates can be as low as 1%.
Home improvement loans and grants: These loans or outright financial awards permit homeowners to repair or upgrade their homes. Packages can also combine a loan and a grant, providing up to $27,500 in assistance. USDA guaranteed home loans can fund only owner-occupied primary residences. Other eligibility requirements include: U.S. citizenship (or permanent residency) Dependable income, typically for a minimum of 24 months. An acceptable credit history, with no accounts converted to collections within the last 12 months, among other criteria. If you can prove that your credit was affected by circumstances that were temporary or outside of your control, including a medical emergency, you may still qualify.
How USDA-issued home loans work?
Going one step further in helping prospective homebuyers, the USDA issues mortgages to applicants deemed to have the greatest need. That means an individual or family that: Is without "decent, safe and sanitary housing" Is unable to secure a home loan from traditional sources Has an adjusted income at or below the low-income limit for the area where they live The USDA usually issues direct loans for homes of 2,000 square feet or less, with a market value below the area loan limit. Again, that's a moving target depending on where you live. Home loans can be as high as $500,000 or more in pricey real estate markets like California and Hawaii, and as low as just over $100,000 in parts of rural America.
FHA 203k Home Improvement Loans
One of the most popular and diverse home improvement loans is the FHA 203k. You can make home improvements to the house you want, or the home you already own.The FHA 203k is one option for home buyers to find a house they want and turn it into the home they love. You can finance home improvements like a deck, new windows, new paint, new appliances and more. You can also finance FHA-required repairs like proper flooring, cracked wall repair, lead-based paint and mold issues plus more. And it all rolls into one mortgage payment. Learn more with national renovation lending expert Joe Daly and Mortgage Minute TV. Use the funds for simple upgrades to your home like a kitchen or bath improvement, or to completely reconstruct a home that is presently unlivable. You can even use a 203k Rehabilitation Loan to tear down an existing structure and build a new one using some portion of the existing foundation. You can borrow up to 96.5% of the appraised value - based on the value when the improvements or repairs are completed. Once you've decided you want to apply for a combo loan for your renovation and purchase, you need to identify contractors who can do the work.You need at least one bid (and sometimes as many as three) for your repair work from licensed professionals. You make the decision as to who does your work, but your lender needs to see the bids to make sure the amount you are being charged is reasonable. This loan can also be used by investors. 
FHA 203h Loans For Disaster Victims
Did you know the FHA offers a type of home loan specifically for those recovering from a disaster? The FHA 203h loan is described in HUD 4000.1 (the FHA loan rulebook for Single Family Mortgage loans and refinance loans) as follows:Section 203(h) of the National Housing Act authorizes FHA to insure Mortgages to victims of a Presidentially-Declared Major Disaster Area (PDMDA) for the purchase or reconstruction of a Single Family Property. Mortgages to be insured under Section 203(h) must be processed and underwritten in accordance with the regulations and requirements applicable to the 203(b) program. Borrowers must have a minimum FICO score of 500 to qualify under FHA loan guidelines, and lender standards may also apply. The FHA 203h loan rules include the following for eligibility. The previous residence (owned or rented) must have been located in a PDMDA and destroyed or damaged to such an extent that reconstruction or replacement is necessary. A list of the specified affected counties and cities and corresponding disaster declarations are provided by the Federal Emergency Management Agency (FEMA). The purchased or reconstructed Property must be a Single Family Property or a unit in an FHA-approved Condominium Project.These loans are for principal residences only-no time shares, vacation homes or other non-primary residences. There is an occupancy requirement for the FHA 203h. 
No down payment is required under this program.
ITIN Loans to individuals with an ITIN (Individual Tax Identification Number)
Bank Statement Loan: 12 Month Bank Statement 
(Perfect For Self-Employed Borrowers) • Up to 90% LTV, no MI • Credit scores starting at 660 • 4 years seasoning for foreclosure, short sale, bankruptcy or deed-in-lieu • 12 or 24 months business bank statements (must own at least 50% of the business past two years) • 12 or 24 months personal bank statements (must own at least 25% of the business past two years) • Loans up to $3 million (minimum loan $150,000) • 2 years self-employed required • No tax returns required • Purchase and cash-out or rate-term refinance • 1099 option available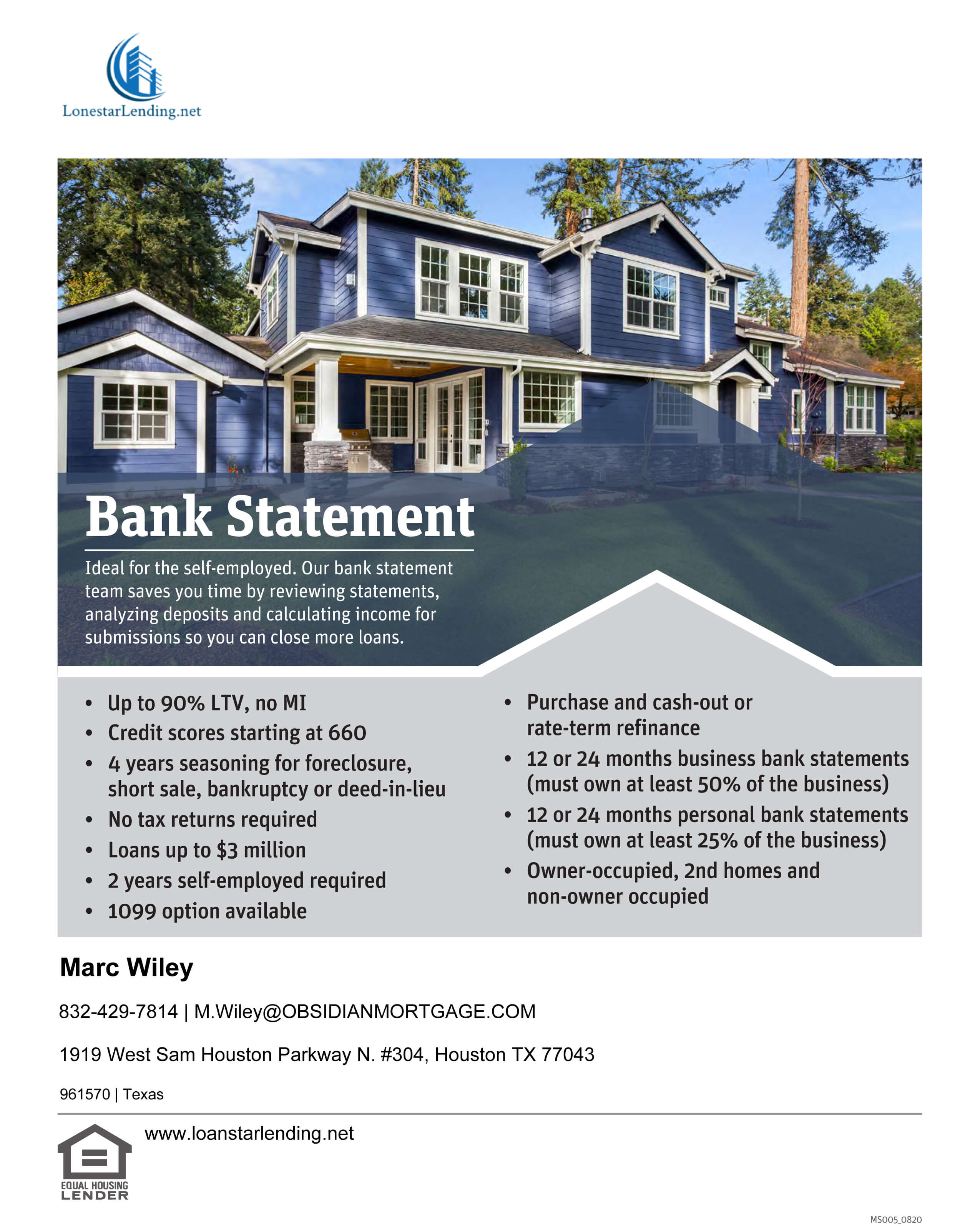 DACA Loans for Dreamers 
Cash Out Refinance 
A cash-out refinance replaces your existing mortgage with a new home loan for more than you owe on your house. The difference goes to you in cash and you can spend it on home improvements, debt consolidation or other financial needs. You must have equity built up in your house to use a cash-out refinance.
Traditional refinancing, in contrast, replaces your existing mortgage with a new one for the same balance. Here's how a cash-out refinance works:Pays you part of the difference between the mortgage balance and the home's value.Has slightly higher interest rates due to a higher loan amount. Limits cash-out amounts to 80% to 90% of your home's equity.
Zero Down USDA Loan 
Foreign National Loan Programs 
Asset Qualifier 
No employment, no income, no DTI • Primary residence • Credit scores starting at 700 • Loans up to $3 million • Maximum 75% LTV • 5 years seasoning for foreclosure, short sale, or bankruptcy Required Assets* • Loan amount • Recurring monthly debt multiplied by 60 months • Funds to close and 6 months reserves *Borrowers must have at least $500,000 in post-closing assets.
Investor Cash Flow "No Income" Loan 
(Perfect For Investors) • Up to 75% LTV • Credit scores starting at 660 • No personal income used to qualify • No limit on number of properties financed (5 with AOMS) • Must have housing history and own a primary home • No employment required on application • Qualification based on property cash flow (DSCR) • Loans up to $1 million (minimum loan $75,000) • Purchase and cash-out or rate-term refinance • Properties can be in LLC's name • Non-warrantable condos OK
Platinum Jumbo 
Up to 90% LTV, No MI • Credit scores starting at 660 • Loans up to $3 million (minimum loan $250,000) • Owner-occupied, 2nd homes and non-owner occupied • 4 years seasoning for foreclosure, short sale, bankruptcy or DIL • Full doc only • Purchase and cash-out or rate and term refi.
Portfolio Select 
Up to 85% LTV no MI • Credit scores starting at 620 • 2 years seasoning for foreclosure, short sale, bankruptcy or DIL • Loans up to $2.5 million • Purchase and cash-out or rate-term refinance • Owner-occupied, second homes, and investment properties • Non-warrantable condos ok • Up to 50% DTI • Gift funds allowed
VA Interest Rate Reduction Loan IRRL 
Hassle-free refinancing for Veterans If you currently have a Department of Veterans Affairs (VA) home loan, you may be able to take advantage of today's historically low interest rates and lower your mortgage payments with the VA Interest Rate Reduction Refinance Loan (IRRRL). If you are a qualified Veteran, an IRRRL is perfect because: A home appraisal is not always required. Little or no out-of-pocket costs, in most cases. Simple and fast closing with no income verification, in most cases.
FHA Streamline Refinance 
If you currently have an FHA mortgage, the FHA Streamline Refinance is the easiest way to get a lower rate and monthly paymentThe FHA Streamline is a "low-doc" refinance with limited paperwork required; the lender doesn't have to verify your income or credit, and there's no home appraisal. That means a Streamline Refinance closes faster than other loans and has slightly cheaper closing costs. Thanks to the FHA Streamline, those with FHA loans have easier access to today's low rates than most homeowners. Lower refinance rates — FHA loan rates averaged 3.94% in October, 2019 (the most recent data available). This is an incredibly low rate compared to recent history. Lower MIP rates — If you got an FHA loan between 2010 and 2015, you may be able to lower your annual mortgage insurance premium using the FHA streamline. MIP refund – Homeowners who use the FHA Streamline Refinance may be refunded up to 68% of their prepaid mortgage insurance, in the form of an MIP discount on the new loan . No appraisal — You can use the FHA Streamline Refinance even if your current mortgage is underwater No verification of job or income — You may be eligible for the FHA Streamline even if you recently lost your job or took a pay cut . No credit check — A low credit score won't stop you from using the FHA streamline program. This is almost impossible to find with other refinance loans
Business Loans and Lines of Credit 
Bad Credit OK. 90% Approval!! Fast and simple process Flexible Terms , Approval in 24 Hour please asd this link at bottom of the page APPLY at Apply for business funding
Business Loan
Many of those in the immigrant population do not have a Social Security number and most have limited credit history. With  the ITIN mortgage lending program that allows clients with an ITIN (Individual Tax Identification number) instead of a Social Security number to purchase a home of their own. The ITIN Loan requires a higher down payment and may have higher rates then conventional financing. ITIN Mortgage loans are available for Single Family Residents, Townhomes, Condos and 2-4 units residential. An ITIN Mortgage Loan can be secured for your primary residence, a second home or investment/rental property.
 Foreign National LoanWe can lend up to 70% Loan to Value with a valid unexpired foreign passport and income and assets verified in clients home country. Subject to OFAC,SAR reporting and compliance.
 Investor Loan  Used to finance 1-4 family properties that will be for investment with as little as a 10% down payment. Aggressively priced, these programs have many variations, including: No Doc, Limited Doc, and Full Doc.
 Challenged Credit Loans These mortgages are for borrowers with less-than-perfect credit. They can vary from slightly damaged credit to severely damaged. Regardless of your situation, we have a mortgage that will get you back on track. FHA loans down to 580 FICO score. 
100% Financing
80/20 home loan with no MI, first time home buyers OK.
700+ credit score required, bank statement OK.
Single family residential homes, seller contribution OK.
Apply Today.